Last Wednesday I finally had enough of the waiting and waiting.. and more waiting for my HTC Desire. Saunalahti (despite their otherwise good reputation) fucked up big time. Yeah they blamed HTC for not delivering as many phones as they needed. And rightfully so, it's not their fault that HTC couldn't get enough AMOLED screens to deliver enough phones.
And rightfully so I'm not blaming Saunalahti for this, even though they're still responsible as I'm concerned. But no, the reason I has pissed/disappointed is because Saunalahti fucked up by not really informing their customers with anything. No information about the number of phones they tried to get, no information on how long they had gotten on the huge cue of people. Just really, really lack of information.
So Wednesday I called Sonera (who's reputation is not very good) and asked them if they had any nice offers with a phone (Desire or Galaxy). And sure enough, they had an pretty good offer. Not quite as good as Saunalahti's offer but adding the 10+ weeks of waiting as well as the uncertainty of the arrival of the phone, I went with Sonera instead.
So by Friday (yesterday) my new phone has arrived, it took them two days to deliver it. Two days?!?! The ETA for the HTC Desire was 12-13 weeks (promised delivery being 3-4 weeks). My Samsung Galaxy S arrived after two days (promised delivery being 1 week). I'm very happy with it, even though I was more excited about HTC Sense.. TouchWiz 3.0 with it's Hummingbird CPU is.. well.. humming along very nicely. And since there's plenty of widgets on the Android market I've made my homescreen(s) awesome!
A.k.a. It looks nothing like this anymore. It's much nicer.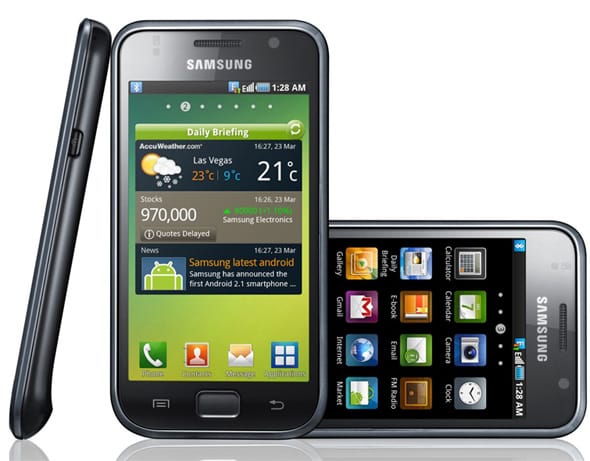 Also. Just as as heads up. There will be no more Movie Posters with my face.