"Apparently" some readers where disappointed by my "Living From A Suitcase" post. "Apparently" I didn't divulge enough information. "Apparently" some people are just never happy. But one aims to please, so here I am again.
Last year, on the 14th of May, our family of three took our saving of £1255, packed a bag each, to move 1814 km from Finland to England. This is what I packed in my bag.
Apparel
1 Suit
3 Boxer Briefs
3 Waistcoats
6 T-Shirts
3 Jeans
4 Long-sleeved Shirts
3 Short-sleeved Shirts
9 Pair of Black Socks
1 Pair of Woolen Socks
1 Suspender
2 hats (Army Cap & Fedora)
1 Humongous Knitted Scarf (courtesy of my mom)
Hygiene
Toothbrush + toothpaste
Shaving Foam
Deodorant
Shampoo
Schwarzkopf Got2b Chaotic Moulding Gum
Coffee
Not a Bodom Bistro Nouveau (I of course fucking forgot it back in Finland)
Zassenhaus Brasilia Burr Grinder
Bialetti Moka Express
Capere Stainless Steel 20ml coffee spoon
Stainless Steel Milk Foaming Pot 350ml
One Chopstick (I've used it since Day 1 and infused it with the flavour profile of every coffee I have ever had)
Music
Brought thanks to the encouragements of my wife
Yamaha C-40 Acoustic Guitar + Hardshell case
Roland UA-4FX USB Audio/MIDI Interface
RØDE NT1-A Diaphragm Cardioid Condenser Microphone
Miscellaneous
Toshiba L755 Intel Core i7 Laptop
Samsung Galaxy S
Wallet, ID, bank card, money
External HDD 1.5 TB
Wacom Graphire 4XL
2 Zen Stone MP3 Players (Though I'm not sure why I took these with me)
---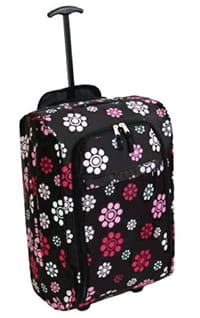 And in a few weeks we're going back to Finland to visit friends and family. But since we're of course not moving like we did last time I figured I can probably get away with packing even lighter. So, having ordered two cabin bags from Ebay — one for me and one the missus — that arrived yesterday, I think it's only fitting that I write down what I plan on taking with me for our two week stay in Finland.
Apparel
2 Trousers
4 Pair of Black Socks
3 T-Shirts
4 Boxer Briefs
1 Sweater
Coffee
Zassenhaus Brasilia Burr Grinder
Not a Bodum Brazil (the beaker has cracked so I need to get that replaced)
Miscellaneous
HTC One S
Wallet, ID, bank card, money
I feel like I might be forgetting something though. Yes? No?