6 days until Christmas. The countdown continues.
How exciting is this? Not only is it less than a week until Christmas, but I've also officially exceeded last years post count with today's post.
In honour of that, and also because we need to get started on this year's gingerbread cookie dough I present you with the result of last years burden. As you might remember, I was quite obsessed with making gingerbread cookies last year and well… in the end, I settled—for now—on a recipe that builds from my mom's recipe, which she has used since she was young. Call me nostalgic but having moved to a new country earlier that year I wanted something that felt "home".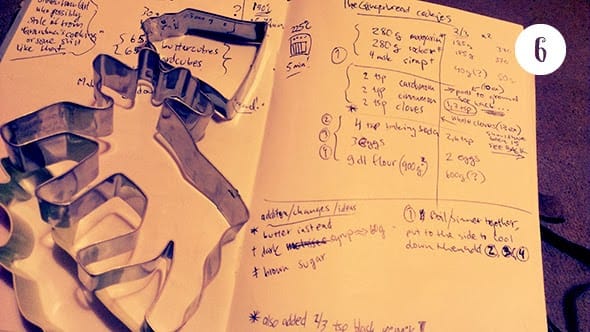 The Gingerbread Cookies
(1)
280 g butter
280 g brown sugar
60 g dark syrup (treacle?)
(2)
12 cardamom pods (2 tsp)
2 tsp cinnamon
24 whole cloves (2 tsp)
2/3 tsp black pepper
(3)
4 tsp baking soda
3 eggs
1125 g flour

Directions
(1) Boil and simmer together, put to the side to cool.
(2) Fresh spices are always better but pre-ground will do. They won't. Fresh, always fresh you cheap bastard
(3) Mix, one by one, into the cooled mix of sugar, fat and spices.
Make gingerbread dough a day in advance so that you can put in the fridge my mom always used to put the dough out on the porch for cooling overnight so that it's cold and firm for the next day. Will make a good amount of gingerbread cookies for a family of 3. I think. I honestly don't remember how many cookies it makes. Also, I suppose it depends on how big you make them.
Anyway, make those fucking cookies and bake them for 5 minutes at 225 °C. Stuff into your talking hole and enjoy.