Riddle me this: When is 15 the same as 46? The answer may surprise you.
Answer: 15 is the same as 46 when you' re talking about how many times Carlos has written a weekly update—15—in a year that—so far—has had 46 weeks.
Now I know what you might be thinking, Carlos doesn't seem to understand the concept of "weekly" and well… you might be right.
But then again, you might be thinking, Carlos only started writing "The Abominable Weekly Updates" back in the end of March, so that's like 3 months that shouldn't count towards any of this imaginary metric he's created for himself and well… again, you would be right.
"But that's still only 15 out of 33", some douchebag then says and everyone beats the douche out of his bag because nobody likes people like that.
The moral of the story is: Don't be a douchebag. Nobody likes douchebags. Unless you're a device used to administer a douche, in which case… carry on you dastardly hygiene accessory you, we love you.
And now that we have cleared that all up… as well as administered a douche to ourselves, let's get it on!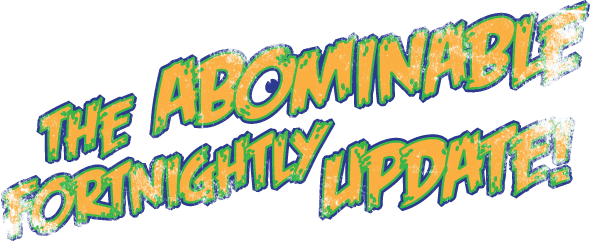 By "on" I of course mean, let's continue with this week's weekly update.
I really wish I had one large thing to tell you but it feels more like I have a lot of small ones that together might form something you could call a weekly update.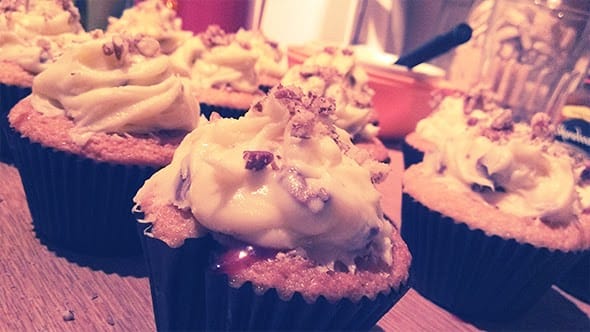 Last week's cupcakes were Vanilla Cupcakes with Strawberry Filling and Mint Chocolate Chip Frosting and Pecan Sprinkles and they were good I suppose if perhaps a little boring. Personally I think I could have paired the Mint Frosting with something better to heighten the flavour experience. But then again, I'm never satisfied with anything anyway so.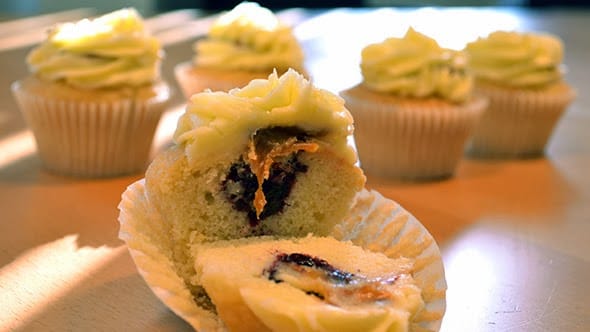 This week's cupcakes were Ginger Cupcakes with Blackberry Filling and Vanilla Ice Cream / Butterscotch Caramel Frosting and I really liked them. It seems so did other people but more importantly, I liked them. Having never had Blackberry before—that I'm aware of at least—I was surprised at how tangy they are but as the "I boiled the shit out of 'em" -filling they were dee-motherfucking-licious.
Next week will be the last experimental cupcakes I make, tentatively named Batch CGCCC-07 until I reveal the "evil" reasons—Yes, I've been drugging them all—behind these experiments.
I'm of course kidding about the drugs. No way I'm buying that much drugs and giving it away for free.
No, all will be revealed in a surprisingly anticlimactic post later this year.
What else?
Je suis on day 17 of learning Français et well… you can see how far I've gotten. Which might not seem very far but according to Duolingo I now know 209 words in French. That's more than 200 words more than I knew 17 days ago and I intend to continue my efforts.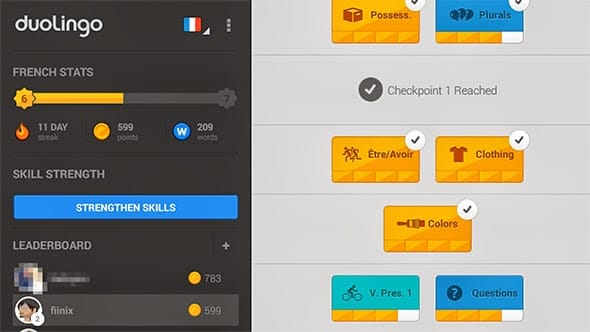 According to an independently conducted study 34 hours of Duolingo is equal to the first semester of college, which usually takes about 130+ hours. I've been aiming for an hour every day, sometimes slightly more and sometimes slightly less but never missing a day so far and whilst I obviously have a long way to go it's a lot of fun learning a new language.
I would honestly recommend it to anyone interesting in learning a new language. It's free—not even any ads—and available from your browser or on your iPhone, iPad and any Android device. Unfortunately for beije—who I know is just dying to learn Portuguese—you can't get it on Windows Phones yet.
I've also been growing my Fantabolous Moustache of Epic Super-Awesomeness with +12 to Attractiveness and Asskicking-ness and its looking quite… bushy.
Visit my Movember page to donate.
I think I should look into some form of grooming because nowhere in the rules does it say that I can't groom it. Actually come to think of it, I'm probably supposed to groom it to perfection because this thing I have under my nose right now looks way too unkempt for my liking.
I promise I won't do a toothbrush moustache because… well… people in this country might not appreciate the Hitler moustache. And I also I would look pretty feckin' stupid in it.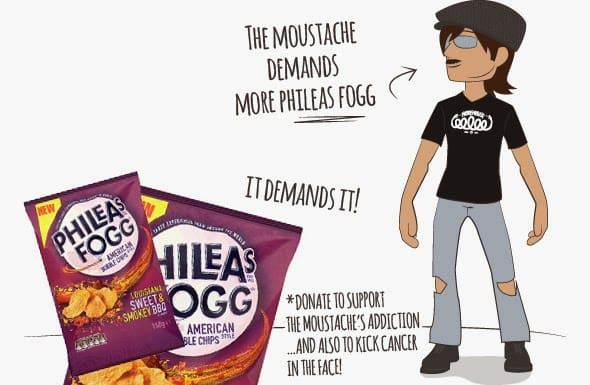 Speaking of books. Yeah, not the smoothest segue but sometimes you just have to take what you can get. My novella "A Rainy Night on Drury Lane" is being released in 8 days and I haven't actually finished it yet.
Sssh, don't tell anyone.

The final instalment, Part VII will be published next Tuesday and a week after that "A Rainy Night on Drury Lane", the FREE eBook will be available in three formats: ePub, PDF, and Mobi assuming I get all these formats to work as they should.
Sign up to get reminded by visiting carloseriksson.com/a-rainy-night-on-drury-lane.
And lastly, this Friday was the day for BBC Children in Need, a charity that since 1980 has raised over £600 million to change the lives of disabled children and young people in the UK. Which sounds like a very noble cause but mostly means that we could wear your pyjamas or onesies to work, sort of like "Too Casual Friday".
I owned neither—choosing instead to sleep in boxer briefs if anything at all—but figured I could buy a onesie to wear anyway. So of course I started browsing Amazon until I found something that appealed to my "okay, fine" -attitude.
Yeah, the things is: I don't really like onesies. Or pyjamas. I think both are stupid and pointless and I'd rather walk naked than wear them.
Which really just means that if I'm going to wear a onesie, I'm going to—at least—have some fun with it.
Cue the Dinosaur onesie.