A couple of co-workers and I really like burgers. We talk about burgers quite frequently—which I'm sure annoys some less meat enthusiastic employees at times. We talk so much about them that our talks have even inspired and spawned a little side-project called Burgerizer. But more on that later.
Fast-forward to a couple of months ago when we started talking about going to different restaurants for the sole purpose of eating hamburgers.
Our first stop was going to be Grand Central Basildon in Essex, an American style restaurant known—at least according to a sample of Yelp reviews—for its disappointing Jambalayas and polite but slow service.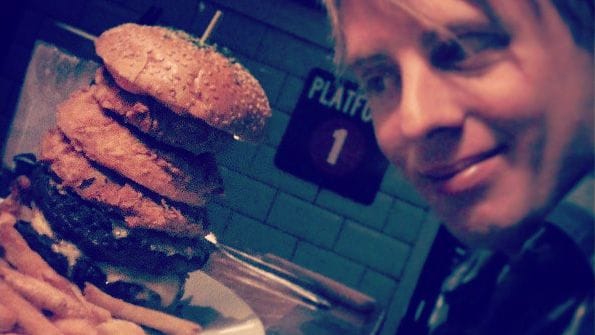 Lucky for us, we experienced neither as it didn't take long for our starters or main courses to show up. Having first stuffed ourselves with a Bloomingdale Onion and a large plate of Times Square Nachos we of course—go big or go home—went all in and "doubled up" on the burgers.
And they were pretty massive.
So much so, that it's with great shame I admit that I didn't clear the whole plate.
[insert 切腹 joke here]
Fast-forward again, this time to last Thursday and a burger that, although smaller, packed an experience I won't forget any time soon.
Next stop, Gourmet Burger Kitchen, a place known—again, according to a sample of reviews from Yelp—for having the best burgers in London.
Well, this sounds promising doesn't it.

Located in Stone, Bluewater Shopping Centre—which I was told is the second largest shopping centre in Europe—is the fourth largest shopping centre in the UK.
Oh, so only fourth biggest. Well that's hardly worth mentioning.
But with 300 stores, parking for 13,000 cars and over 50 restaurants I suppose it's big enough.
Having scoped out our destination we first made a few "quick" stops at the other stores in Bluewater. Like the Lego store, where I built myself and Lucien a Lego look-alike from their "Build Your Own" section.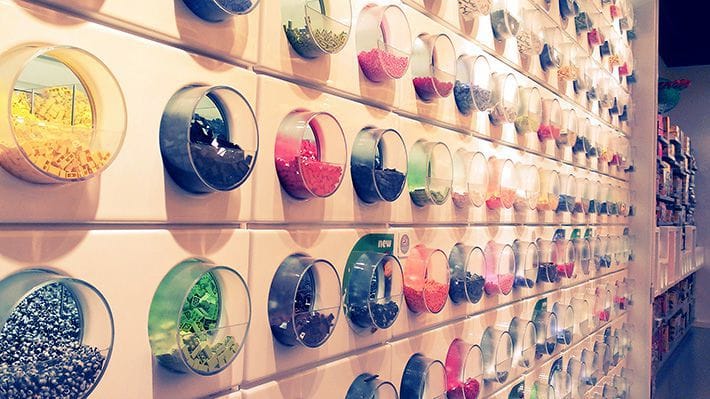 We also went to the Apple Store but quite frankly if you've seen one you've seen them all. And now I've seen one.
Time to eat!
I ordered the Chargrilled Chicken Skewers for the starter and decided, after much decision anxiety, to order their award-winning burger, The Apollo.
A delicious mix of spiced yoghurt chicken, grilled peppers, cucumber tzatziki, rocket, pickled onion, house mayo all in a soft sesame seed bun Gourmet Burger Kitchen
But as you might remember I was going to follow in the footsteps of our great—eater of animals—Darwin and seeing as there was the option of changing any burger meat for buffalo meat, I of course had to.
First to arrive though, was the Chargrilled Chicken Skewers, forever remembered as the most succulent and mouth-watering chicken I have ever had. So perfectly grilled that this is now what I will aim to achieve with my own barbecuing.
How about the burger, you ask?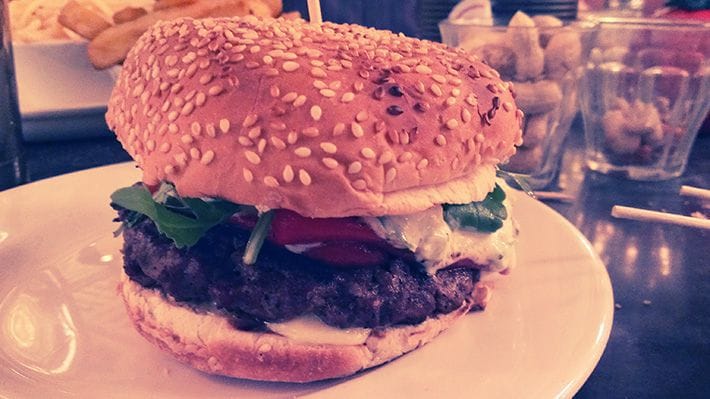 Amazing.
The buffalo had a slightly crispy exterior with a hint of pink inside. The bun–patty ratio was next to godliness—best I've ever had at least. The contrast provided by the tzatziki was exquisite. I suspect it's going to be quite awhile before I find a burger to match or surpass this one.
So… you know… it was okay, I guess.