Using only a first name, an age, a few pictures and a short paragraph.
For the past week that's all people on Tinder and Happn, two of the many dating apps out there, have known me as.
That's not a lot of information to go on when trying to weed out the stalkers, creepers and general misogynists from the jungle of dateable people. No wonder they make show after show after show, about people dating each other.
Because it really is a jungle of penis photos and, "no hookups plz," out there.
Driven by curiosity as always and the fact that dating apps didn't exist back when I first met Rebecka, I wanted to see what dating is like in the 21st century. To give you some perspective, Facebook didn't even exist when our paths first crossed.
So with Rebecka's consent I decided to give it a go.
Choosing which ones to install of all the myriad of dating apps there are, was as easy as; I had only heard of Tinder and Happn.
Done.
For the sake of this experiment and because I'm a cheap bastard, I decided against paying for any of their premium services and relied only on the features you get for free.

To make things more interesting I've decided to change my profile text every now and then. I'm also going to change the order of the photos because—apparently—many people only look at the first photo.
Day 1
"Published writer, speaker, feminist and father of one. Tattooed multilingual Scandinavian who likes real ale, black coffee and socialist opinions."

"How are you today?"
"Wait? Which way do I swipe?" I exclaim in confusion.
I spend most of the time trying to remember which way to swipe. But when I'm not I'm taking the time to read people's profiles—assuming it says anything at all—I'm looking through all their available photos and generally keeping an open mind about the person presented before me.
I'm sure I'm not the first to point this out but it really is ruthless out there, isn't it?
You only have one-tenth of a second to make a first impression. After that people will have already judged and dismissed you. On Tinder and Happn, this has been reduced to a profile photo.
This really makes me wonder what first impression I give off?
The advise online ranges from, "be yourself" to, "don't be yourself, you're probably a creep."
To, "don't send pictures of your penis," and finally, "never ever ever ever send pictures of your penis."
Day 2
Taking a few cues from online advise I decide to update my profile text to make it shorter and punchier.
"Would you like fries with that 6′0″ tattooed Scandinavian?"
I receive my first match and my first Super Like—forcing me to figure out what a Super Like is.
At the end of the day I even get a reply. Apparently excited to meet me she asks if I can visit tinderdater.com to verify my identity for her peace of mind.
My spontaneous thought is, "Of course. Why shouldn't I, your safety is important…"
Before visiting it thought, I type tinderdater.com into Google because my safety is also important and it reeks of scam.
Which is because of course it is a scam so I decide to simply ignore the message. Annoyed and frustrated by these fake accounts who aren't really looking for love I—
—remember why I'm here. Let he who is without sin cast the first and all that.
I'm sorry.
Day 3
"Would you like fries or hummus with that 6′0″ tattooed Scandinavian?"
A part of me thinks you're not supposed to change your profile text this often, few people seem to read them anyway.
A strange day emerges as most of my swipes result in Tinder proclaiming enthusiastically, "It's a match."
Men are nearly three times as likely to swipe "like", at 46 percent, than woman, who only swipe right to indicate a "like" 14 percent of the timeTinder, the Fast-Growing Dating App, Taps an Age-Old Truth, The New York Times
Reading everyone's profiles, the only pattern that emerges is a reactionary one; women on Tinder are quick to tell would-be suitors that they're not after hookups, that children in photos aren't theirs and how tall they are.
Day 4
By now I've given up on Happn because nothing is happening there.
In a last effort I'm going to use up my Charms—their equivalent to Tinder's Super Like—to make my existence known but as far as I'm concerned Happn isn't happening.
Back at Tinder I'm still making a conscious effort to read everyone's profile text and look through all their pictures.
I Super Like people when given the opportunity. Which for the free version means once every 12 hours. Though most of the time I forget about it and don't do it at all.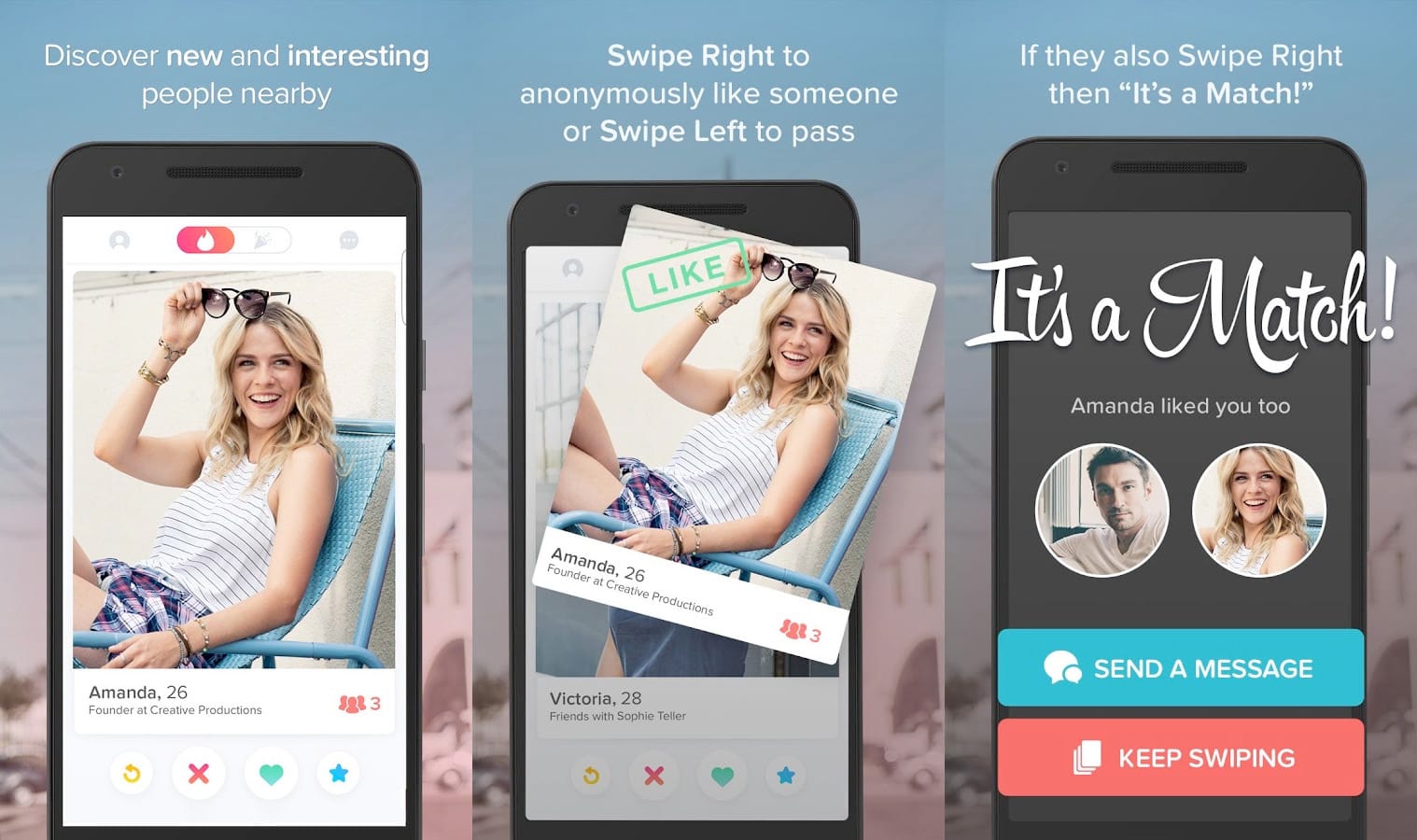 I still haven't gotten the hang of swiping and frequently swipe left when I mean right and vice versa.
A couple of more matches appear throughout the day and I get stuck trying to figure out what to say, having been informed that, "Hi, how are you today?" is a terrible opening line.
Apparently, courteous behaviour died a long time ago—I'm kidding, I'm just old and grumpy.
Day 5
"6′0″ tattooed Scandinavian. Let's get together and talk about our daddy issues."
The dating scene has finally worn me down. Instead of reading people's profile thoroughly I now skim them and their pictures.
"No. No. Yeah, swipe. No. Yes, swipe. No."
All the—I'm sure—amazing people on Tinder have gone from getting 15 seconds of my full attention to 3 seconds of the bare minimum attention in five days.
I should be ashamed of myself. I am ashamed of myself.
Day 6
As the ending of this little experiment draws near I begin to wonder how other people experience datings apps such as Tinder.
"Are there enough dick picks to go around?"
Curious to see if my own experiences reflect that of others I talk to a few people who have used Tinder to varying degrees of success.
And one them of agreed to let me publish their story. To protect their identities, the people's names have been altered.
---
Charlie's story
It [Tinder] is easy to use and you find yourself swiping people away very easily, when perhaps you should give people a chance to actually have something to say. Once you get a match and start chatting I think the key is not to waste people's time with small talk. It's better to be direct as you get to know people quicker.
I didn't try to impress anyone. I was myself and anyone who didn't like that we didn't chat for long.
When I started chatting to Alex I knew straight away they were someone I would get on with and here we are now, living together and saving up for our marriage.
All in all, I had maybe 20 actual conversations, plenty more which consisted of nothing but two messages. I would often start conversations with ridiculous and bizarre questions and if they didn't respond well to those I would discontinue our chat. I went on one date that didn't go great but then met Alex and it was fantastic.
I don't know how long I would have been on there if I hadn't met Alex.
In the end though, Tinder is what you make of it, I guess.
Day 7
"6′0″ tattooed Scandinavian who's got his shit together. Wanna have our shit together together?"
It has taken me this long to get the hang of swiping, which I suppose says more about me than Tinder.
Dating seems to be as difficult now as it has ever been. And whilst only a few number of people are comfortable flashing themselves in public, a lot more seem perfectly fine doing it online.
Concluding everything, I remove my accounts or set them to not be discoverable.
I'm not sure if I'm cut out for dating in the 21st Century.