Whenever possible I like to fly with a carry-on suitcase only.
This entry is quite simply a list of what I'm taking with me to Finland for the month we're there. I realised I've never published what I usually bring. This list is, technically speaking, always getting updated and tweaked as I learn more things about my habits and comfort needs but by now, is pretty good.
Although we're travelling with a 10-month baby, this list does not reflect their needs, only mine.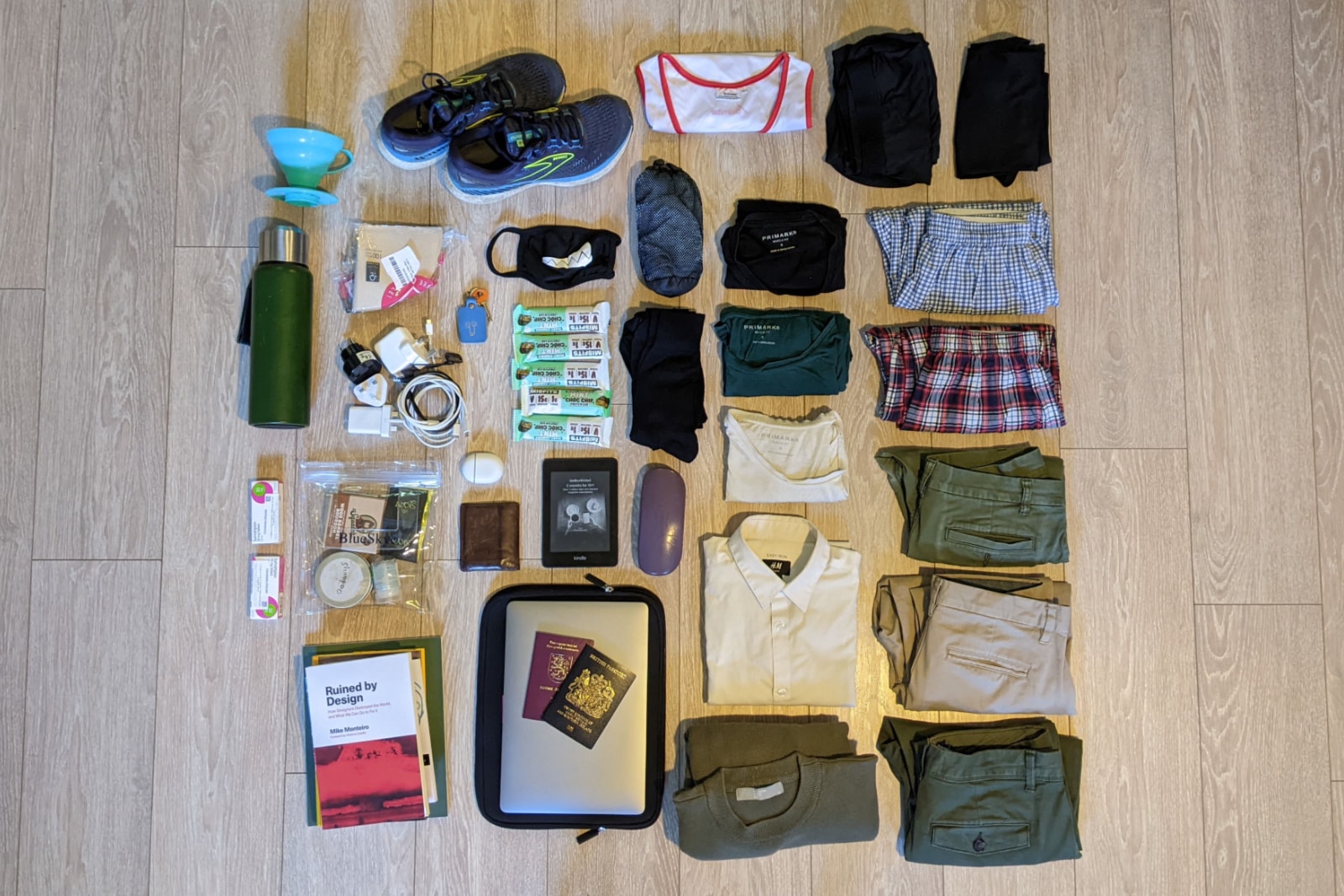 Electronics
I can't wait for manufacturers to decide that USB-C is the fucking way to go, come on already!
Pixel 3a smartphone (not in picture)
Macbook Air + laptop sleeve
Kindle Paperwhite
Fitbit Inspire 2 (not in picture)
3 power adapters
4 charging cables
2 UK to EU adapters (only 1 pictured)
Pixel Buds headphones
Clothing
People always worry that I bring too few items of clothing. I always think people bring too many.
Fun fact: Except for when I shat myself in South Korea, I've always had enough underwear with me.
1 sweater
3 t-shirts
1 long sleeve shirt
2 pairs of chinos
1 pair of shorts
3 pairs of underwear
3 pairs of socks
1 pair of shoes (running shoes)
2 pairs of pyjama bottoms (for lounging around)
Exercise
Fun fact: the tank top is from East Anglian Air Ambulance, the charity I was originally going to run the London Marathon for.
1 pair of swimshorts
1 workout tank top
1 micro towel
Hygiene and wellbeing
No toothbrush—I have an electric toothbrush so I'll buy one in Finland. No razor, I'll shave today and will be fine enough until we return—in Finnish we call this a holiday beard (lomaparta).
1 bar of body wash
1 bar of shampoo
1 bar of deodorant
4 condoms
6 doses of Sumatriptan (unlikely to need all of them but I don't want to wake up one morning with migraine without my medication)
Miscellaneous
Honestly, I didn't use to bring a thermos but I've been finding myself appreciating being able to score a big batch of great coffee when the opportunity presents itself and then not have to worry about it for the rest of the day—nowadays, I only drink 1 L per day and all before noon.
Bellroy sleeve wallet
Home keys on dick key-chain (UK and Finland)
sunglasses + microfibre cloth
covid mask
passport (Finnish for me, British for Jude)
1 L thermos
Hario V60 Coffee Dripper
~30 coffee filters
5 Misfits snack bars (Mint Choco Chip)
miscellaneous books being gifted to people
That's my packing list. If I remember to, I will review it again when we get back to see what I actually used (or why I didn't).
I'm so excited about tomorrow!